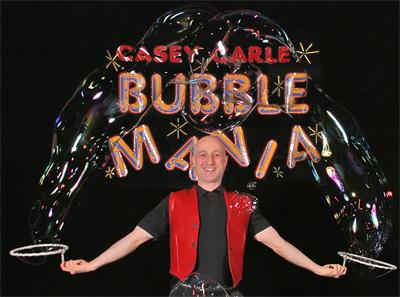 Casey Carle starting bubbling professionally in 1987 while performing for Ringling Bros Circus. After running away FROM the circus, Casey expanded his bubble skills into a solo act that is a full-time occupation. His "BubbleMania!" stage show is presented in two formats: "Comedy with a Drip!" for family audiences and theaters and "Science, Art & Comedy!" for schools, science centers, and educational events.

Humor, both verbal and physical, is a big part of Casey's performance style. It's this spontaneity and off-the-cuff comedy that keeps the show fresh for him and up to 400 audiences a year.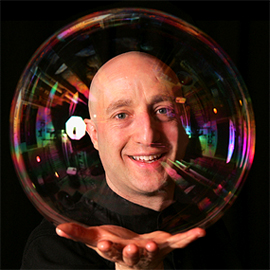 I first saw Casey's show at the Pacific Science Center in Seattle in August 2005. After the show, he joined the rest of us at the First National Gathering of Professional Bubble Blowers.
A great performer, Casey mixes science, art, and humor in his shows. He has performed on TV, at the Smithsonian Institution, and he won an international bubblers competition in Japan in 2005.
Among his other activities, he was recently selected by Cirque du Soleil as their soap bubble consultant, coach, and technician.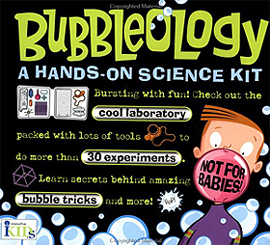 Casey developed and, with Jim Moskowitz, wrote a great science book for kids, Bubbleology: A Hands-On Science Kit. The book is integrated with a kit that includes all the needed equipment and instructions for 30 bubble experiments. He kindly donated a copy of the book/kit to the Bubble Blower Museum.

You can find out more information about this wonderful book in the Books about Bubbles section of this website.